Photo Album Gallery Place Holder - Please wait while the Photo Album loads. If the album does not show, please refresh the page to try again.
Make sure to visit the DRAW Booth at every NHRA National Event this 2015 season!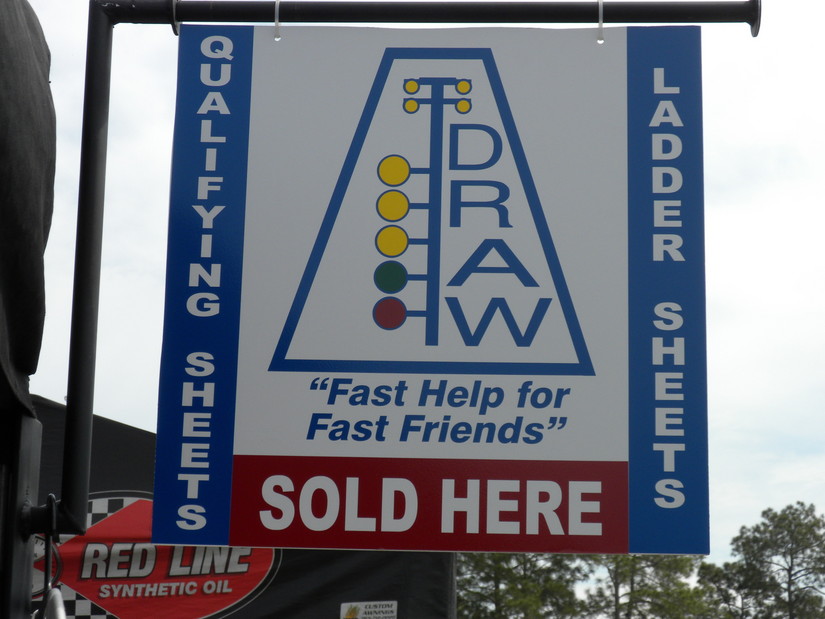 2015 marks the 30th year that DRAW (Drag Racing Association of Women) Booth has been a part of NHRA National Events, in its quest to raise money to provide financial and emotional support to qualified individuals involved in drag racing accidents at a track. In 1986 it started out as a Snow Cone Booth. It was a very small booth that was put together with PVC Pipes. It was only opened when someone was available to operate it.
T-Shirts with the DRAW Logo on it and raffle tickets for a trip to Hawaii (donated by Hawaiian Punch) were the only things sold out of the booth.
In the late 80's we moved to a pop-up tent and added other things to our merchandise. We would try to open the booth late Friday and then have it open on Saturday and Sunday. We tried to have it open every race, but if members were not available to work...
In the 90's additional items were introduced for sale and the booth was moved from a pop up tent, to operate from a trailer on manufacturers midway. In 1992, John Raffa approached us about sell sterling silver automotive jewelry. This has turned out to be very popular item. In the early 90's NHRA approached DRAW to sell qualifying and ladder sheets to the sportsmen racers and fans. In order to do that, we had to commit to having the booth open the day the sportsmen racers ran their qualifying rounds meaning the booth was open on Thursday, Friday, Saturday and Sunday. For a few years, different people would keep the booth open at different events, but it started to become harder and harder to find someone available every day, all day, every event. In 1998 Terry & Rosalee Noble had both retired and volunteered to become the permanent workers at the DRAW Booth for all of the NHRA National Events. At the couple North East, Pat Shaeffer volunteered to run the National Booth.
As the 2015 NHRA Mello Yellow Drag Racing Season begins, the DRAW Booth will can once again be found amongst the many contingency and marketing sponsors located on the midway in the pits. The DRAW Booth will once again be sharing space on Kip Rhoton's (KJR Motorsports) rig with companies such as K&N Filters, Lincoln Electric and several other contingency sponsors.
So if you are at one the 24 NHRA Mello Yellow Drag Racing National Events please stop by the DRAW Booth. See what it has to offer. DRAW always enjoys visiting with-well just about everyone.

See you at the track….
Photo Album Gallery Place Holder - Please wait while the Photo Album loads. If the album does not show, please refresh the page to try again.
The History Lesson
Deb Thompson, DRAW Historian
The DRAW Person of the Year for 2009 was Brian Bianco. He volunteered by walking the pits securing autographs on
memorabilia i tems and then donating these autographed items to DRAW for the live auctions then held in Joliet and
Dallas. DRAW Organization of the year went to Connie Kalitta, the Kalitta family and Kalitta Air for their support.
During the 24 years of DRAW, this family organization supported racers in need with their generous and continuous support
of DRAW. Volunteer of the Year was given to Chris and Karla Hardesty who in the previous 10 years had organized a
group of volunteers with their family and friends to work the auction in Joliet. They attended other races and helped with
the ladder sheet program. As we enter into the season of thankfulness, gratitude, love and giving, take a moment to
remember our fellow racers/families that have suffered a loss of some sort, however great or small, still a loss. Help make
DRAW something those injured racers are thankful for. By supporting DRAW, you are giving to those racers. So much can
be done just sitting watching TV…Christmas cards to injured racers, ordering something from DRAW's merchandise for gift
giving, a char i table donat ion, a resolut ion to stop in the booth and help more next racing season. A little goes a long
way i f we each do just a l i t t le something. In 2009, Joan Gwynn "retired" from the position of DRAW's treasurer, a position
she had held since 1986. In her announcement note in the Newsletter from February 2009, she added this little note that I 'd
like to repeat here: Always remember : Happiness keeps you sweet ; Trials keep you strong; Sorrows keep you human; Failures keep you humble; But success will always keep you glowing.
DRAW is a success that we al l can be thankful for. Let's all give a little more of ourselves to keep that success and all of us glowing!
Sign Up for our Email Newsletter


Some E-Mail Addresses Lost

Due to a computer malfunction early this year, some email addresses were lost. The e-mails that were effected the most were those with membership numbers from 9800 on. Some were backed up but some were not and are gone. Look at the front of your newsletter to see your Membership Number is printed on the label with your name and
also see if your E-Mail address is correct. I believe that all Memberships have been fixed in the computer but there was no E-Mail Data for a lot of the latest membership from 9800 on. If you would like to have the E-Mail version of the newsletter only and get this by mail just E-Mail Olan Gotcher at olan@jographix.com and put your Name, E-Mail Address and say E-Mail only and I will get it taken care of.
Sorry for the inconvenience but sometime there is no other means of getting information back. I have instituted a new backup procedure to correct this problem in the future.

Olan Gotcher
DRAW Membership Secretary
Sign Up for our Email Newsletter

________________________________________________________________________________________________
Committee and Volunteer Opportunities for 2015
In 2015, DRAW will mark its 30th year of providing "Fast Help for Fast Friends." It takes the time and talent of many people to make our mission a reality. There are many ways you can help make 2015 DRAW's best year ever.
DRAW's lifeblood is dedicated volunteers. You can make a valuable contribution to DRAW by joining one of our committees:
Website, Newsletter, Membership, Fundraising, Injured Racer Calling
, and others that might arise during the year. If you are interested in volunteering or joining one of DRAW's committees, please submit an
application
to Rosalee Noble, 4 Hance Dr., Charleston Ill. 61920 Email:
rnoble@consolidated.com