DRAW BOARD OF TRUSTEES 2016-2017
Election Ballot
(BALLOT MUST BE RECEIVED BY MIDNIGHT PST, DECEMBER 15, 2015)
Listed below in alphabetical order are 12 (12) candidates seeking to fill the six (6) seats on the Board of Trustees for 2016-2017 term.
VOTE FOR ONLY SIX (6) BY CHECKING THE BOX IN FRONT OF THEIR NAMES OR E-MAILING THE SIX NAMES TO THE ADDRESS BELOW:
___ Aswege, Vicki
___ Bennett, Kevin A.
___ Comstock, Karen
___ Galla, Jeri
___ Hasper , Karen
___ Houmard, Valerie
___ Noble, Rosalee
___ Ross, Nancy
___ Shaeffer,Pat
___ Thompson, Debby
___ Troxell, Tyler
___ Van Wallis, Yokie
Your Name: _____________________________________________________
Your DRAW Membership Number: ___________________________________
(Your DRAW Membership Number is located above your name on the address label of this newsletter)
When the ballot is complete, Mail to:
DRAW 2012-2013 Trustee Election
c/o Kathi Vandermeer – 16889 Rose Briar Lane – Nampa, ID 83687
Or Fax – 208 442-5274
Or E-Mail – kathi515@cableone.net
_____________________________________________________________________________________________________________________________
2015 DRAW Person of the Year Award
2015 DRAW Person of the Year Angelle Sampey accepted the award last weekend in Las Vegas from the DRAW Board of Trustees. Angelle turned around and donated the helmet she wore this year to be auctioned to raise funds for DRAW.
Photo Album Gallery Place Holder - Please wait while the Photo Album loads. If the album does not show, please refresh the page to try again.
Ebay WinBigger Sweepstakes
Add DRAW as your favorite charity on Ebay today and you will be entered to win a $25,000 shopping spree!
The charity that receives the most "Favorites" on Ebay by the end of this year will win a $25,000 grant. Supporters who add a favorite charity during this time frame will be registered to win a weekly drawing of $250 and a grand prize of $2,500 to shop on Ebay!
It only takes a second, please click the link below and add DRAW as your favorite right now.
Thanks for your support and giving DRAW a chance to win this grant!
Photo Album Gallery Place Holder - Please wait while the Photo Album loads. If the album does not show, please refresh the page to try again.
I was fortunate enough to meet Kelley (Ike) Isenhower at the Raceview Family Campground during this years U.S. Nationals. He was playing on a stage in the campground surrounded by a crowd of screaming fans. I heard him say something about "all proceeds go to DRAW" well needless to say that caught my attention so I talked to him after the show. Here is a guy that you dont hear about, playing his heart out on stage and giving the proceeds to the Drag Racing Association of Women. I asked him to tell me his story and how he started getting involved with DRAW.
He started attending the U.S. Nationals in 1991 with his brother and father. He was hooked after he saw the first Top Fuel Dragster run down the track. This event quickly became a tradition every Labor Day for him and his family. He remembers that his mom and dad would get to every final race early and stop by the DRAW booth to donate a little cash and pick up a ladder sheet so they could keep track of their favorite drivers throughout the day. Some 25 years later they still do the same thing.
Ike started donating small amounts to DRAW every year and decided in 2013 to try something different. He has been a touring musician for over 20 years, playing in excess of 240 shows per year. He has been putting on a concert at the Raceview Family Campgrounds every year starting in 1996. The concerts started small, sitting around campfires with close friends. Over the years, more people would show up to listen and eventually he started using a stage and a large PA system. He brought a couple of bands out to play and the crowds just kept getting bigger.
In 2013 at the 59th US Nationals he decided to try and raise some money and his father mentioned that they should do something for DRAW. He was able to get an acoustic guitar donated by IRC Music in Indianapolis and with the help from some great friends was able to get the guitar autographed by about 20 professional drag racers. That evening he played his show to a crowd of about 400+ people and started selling raffle tickets for the guitar. Towards the end of the night they drew the winning number and gave it away but only after raising about $1200 from the raffle. A few other donations took the total to almost $1400! Ike and his father delivered the money to the DRAW booth Monday morning before the finals. The look on the eyes of the ladies at the booth was very heartwarming, they were very thankful and so was he.
Ike played this past Labor Day weekend at the 61st US Nationals and it was his 20th year at the campground. He purchased an event flag, got about 13 driver autographs raffled it off that night at the show. The flag raised $250 and with the help of some friends from Fort Wayne (Team Social) they were able to sell some T-shirts they had made. Between the shirts and the flag Ike was able to present the ladies at the DRAW booth $500 on Monday morning.
Ike has done a lot of gigs in his career for many different charities including the American Cancer Society, Loop for Life, Cystic Fibrosis Foundation, Wounded Warriors, Craven for the Cure, Red Mask Foundation, Alzheimers Research, SIDS, College Mentors for Kids and Care-N-Share to name a few. Its always been a joy for him to provide music for these charitable events. Ike plays music because he loves it, if there are those whos day can be brightened by what he does, then he is going to continue doing it. Ike is going to continue supporting DRAW every year, as he truly loves the sport of drag racing and the mission that the great people at DRAW follow, "Fast Help for Fast Friends". Its his pleasure to be associated with such a grear organization as DRAW and he looks forward to raising more money in the future. Come check out his website at www.reverbnation.com/ikeguitar for future events.
Ike is a solid example of the people we do not hear about that are regular donors to DRAW and have been for years. If you know of anybody like him, tell me about it. Send the details to me via email at harbone66@gmail.com and I will post up the story right here in the website.
Photo Album Gallery Place Holder - Please wait while the Photo Album loads. If the album does not show, please refresh the page to try again.
U.S. Nationals Photos
________________________________________
Photo Album Gallery Place Holder - Please wait while the Photo Album loads. If the album does not show, please refresh the page to try again.
________________________________________________
Photo Album Gallery Place Holder - Please wait while the Photo Album loads. If the album does not show, please refresh the page to try again.
Pictured: Kenley Freeman, Ava Self, Berkley McGaha,
Alix Ferri, Alexis Thompson, Chloe Thompson,
Gabriella Thompson with Sarah McLemore
Sunday morning at the O'Reilly Spring Nationals, Baytown,TX seven young girls with Elite Motorsports came to the DRAW booth to donate money to DRAW. Over the weekend these girls worked hard designing bracelets and selling them to racers and fans. They wanted to do something special with the money they had made from their sale.
They decided to donate at least half of their proceeds to DRAW!
We truly appreciate their generosity in making their donation to help the injured racers.
________________________________________________________________________________________________________________________________
Photo Album Gallery Place Holder - Please wait while the Photo Album loads. If the album does not show, please refresh the page to try again.
Make an online donation to DRAW by clicking the "donate" button below
If you would like to make your donation in memory of someone please make sure to add a note on the PayPal donation page under "add special instructions to the seller" so we know whom to dedicate it to
___________________________________________________________________
Make sure to visit the DRAW Booth at every NHRA National Event this 2015 season!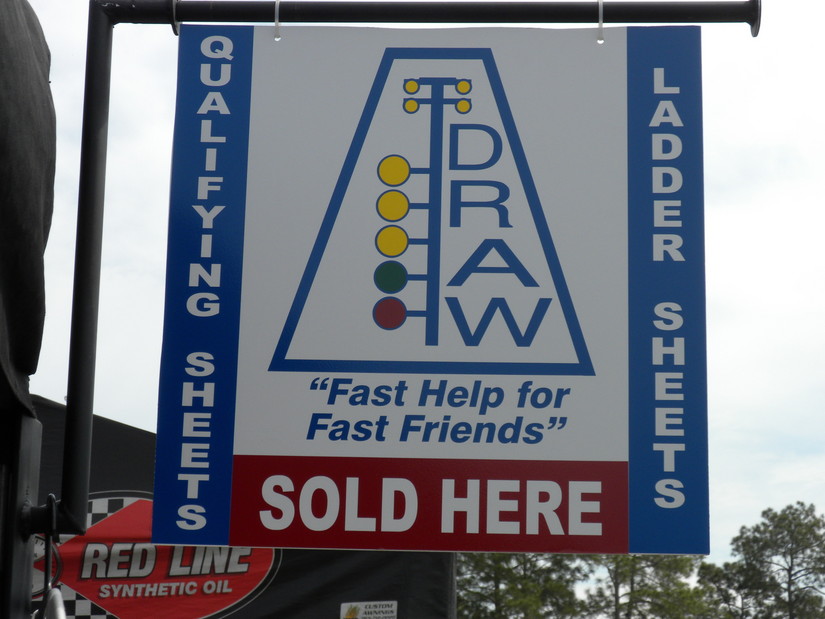 2015 marks the 30th year that DRAW (Drag Racing Association of Women) Booth has been a part of NHRA National Events, in its quest to raise money to provide financial and emotional support to qualified individuals involved in drag racing accidents at a track. In 1986 it started out as a Snow Cone Booth. It was a very small booth that was put together with PVC Pipes. It was only opened when someone was available to operate it.
T-Shirts with the DRAW Logo on it and raffle tickets for a trip to Hawaii (donated by Hawaiian Punch) were the only things sold out of the booth.
In the late 80's we moved to a pop-up tent and added other things to our merchandise. We would try to open the booth late Friday and then have it open on Saturday and Sunday. We tried to have it open every race, but if members were not available to work...
In the 90's additional items were introduced for sale and the booth was moved from a pop up tent, to operate from a trailer on manufacturers midway. In 1992, John Raffa approached us about sell sterling silver automotive jewelry. This has turned out to be very popular item. In the early 90's NHRA approached DRAW to sell qualifying and ladder sheets to the sportsmen racers and fans. In order to do that, we had to commit to having the booth open the day the sportsmen racers ran their qualifying rounds meaning the booth was open on Thursday, Friday, Saturday and Sunday. For a few years, different people would keep the booth open at different events, but it started to become harder and harder to find someone available every day, all day, every event. In 1998 Terry & Rosalee Noble had both retired and volunteered to become the permanent workers at the DRAW Booth for all of the NHRA National Events. At the couple North East, Pat Shaeffer volunteered to run the National Booth.
As the 2015 NHRA Mello Yellow Drag Racing Season begins, the DRAW Booth will can once again be found amongst the many contingency and marketing sponsors located on the midway in the pits. The DRAW Booth will once again be sharing space on Kip Rhoton's (KJR Motorsports) rig with companies such as K&N Filters, Lincoln Electric and several other contingency sponsors.
So if you are at one the 24 NHRA Mello Yellow Drag Racing National Events please stop by the DRAW Booth. See what it has to offer. DRAW always enjoys visiting with-well just about everyone.

See you at the track….
Photo Album Gallery Place Holder - Please wait while the Photo Album loads. If the album does not show, please refresh the page to try again.
The History Lesson
Deb Thompson, DRAW Historian
I have a complete file drawer full of "thank-you" cards and notes and pictures sent from racers and family members that DRAW has helped through the years.
Each and every person sending a thank-you had a need to express their appreciation for the help they received from DRAW when they really needed it. Some quotes: "Just knowing you were there for us means more than we can ever say." "God bless you for being there when we needed you." "I want to thank you
for all the help you have given and you have given greatly. I firmly believe that it also was largely due to you (DRAW) that put him in a good frame of mind."
"All of you should be extremely proud of the work you are doing helping those in their time of need. I never imagined we would be on the receiving end one
day." I spoke to an injured racer, Larry Turner, and his wife, Becky. Larry was involved in an accident in his super comp roadster in May 2014. He suffered a
leg fracture, seven fractured ribs and a punctured lung. In talking with each of them, the one thing they both said was how amazed they were at DRAW's quick response. Rosalee Noble called while Larry was still in the hospital, and he was only in the hospital for 4 days. Becky particularly appreciated the concerns and caring she received from the then complete stranger, Rosalee, who offered her help so unexpectedly and when she needed it the most. Larry and Becky now
call themselves "ambassadors" for DRAW as they feel they can't say enough good things about the organization and continue to pass the word about what we
do, becoming a member, making a donation, supporting DRAW. After 30 years of Fast Help for Fast Friends, there are still people in the drag racing community unsure about everything that DRAW does. And, we can only give that quick response and "Fast Help" when we are aware of an accident. Let's keep spreading
the word about our grand organization, what we do, how to support DRAW, and always remember to report an accident o DRAW anytime you become aware of one. We are all very proud of the help DRAW is able to give!
Sign Up for our Email Newsletter


Some E-Mail Addresses Lost

Due to a computer malfunction early this year, some email addresses were lost. The e-mails that were effected the most were those with membership numbers from 9800 on. Some were backed up but some were not and are gone. Look at the front of your newsletter to see your Membership Number is printed on the label with your name and
also see if your E-Mail address is correct. I believe that all Memberships have been fixed in the computer but there was no E-Mail Data for a lot of the latest membership from 9800 on. If you would like to have the E-Mail version of the newsletter only and get this by mail just E-Mail Olan Gotcher at olan@jographix.com and put your Name, E-Mail Address and say E-Mail only and I will get it taken care of.
Sorry for the inconvenience but sometime there is no other means of getting information back. I have instituted a new backup procedure to correct this problem in the future.

Olan Gotcher
DRAW Membership Secretary
Sign Up for our Email Newsletter

________________________________________________________________________________________________
Committee and Volunteer Opportunities for 2015
In 2015, DRAW will mark its 30th year of providing "Fast Help for Fast Friends." It takes the time and talent of many people to make our mission a reality. There are many ways you can help make 2015 DRAW's best year ever.
DRAW's lifeblood is dedicated volunteers. You can make a valuable contribution to DRAW by joining one of our committees:
Website, Newsletter, Membership, Fundraising, Injured Racer Calling
, and others that might arise during the year. If you are interested in volunteering or joining one of DRAW's committees, please submit an
application
to Rosalee Noble, 4 Hance Dr., Charleston Ill. 61920 Email:
rnoble@consolidated.com